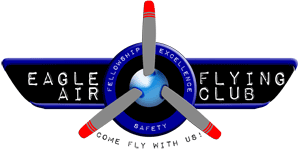 Wood County Regional Airport (1G0)
Bowling Green, OH
Eagle Air Flying Club is incorporated, in the State of Ohio, as a non-profit Social / Recreational organization. We are an informal group of pilots with the love of flying and interested in spreading the joy of flying in safe well maintained aircraft. The club was founded in June of 2003; with the purchase of our first airplane, a 1975 Cessna 150.
While we are not a flying school, we accept people who want to learn to fly into the club as members. We can assist you in finding an instructor who is acceptable to use our aircraft for the instruction of our members. Currently, that instructor does not have to be a member of Eagle Air Flying Club, but all arrangements with that instructor are outside of anything to do with the club. As a full or associate member you may use club aircraft for instruction as long as you follow all appropriate rules and regulations of the club and FAA.
We are looking to grow our club and are open to new members. We want to keep our active member to airplane ratio to about 15 people per airplane. We usually meet every second Saturday of the month at the Wood County Regional Airport, conference room, at 10:00 am. At this meeting we discuss club business, up-coming events and socialize. We welcome all visitors. Please visit our website for additional information.